Description
B vitamins are essential for normal functioning of the immune and nervous system; it helps reduce tiredness and fatigue. Deficiency in B vitamins could cause anaemia, depression, nerve damage, abdominal pain, hair loss and skin disorders. HealthAid Vegan B Complex Effervescent Tablets provide a complete source of highly absorbable B vitamins to help sustain energy levels in the body and maintain general health and wellbeing. Effervescent tablets absorb faster into the blood stream as they are water soluble in nature, they are easy to digest and help to increase the water intake. You don't have to take many efforts, just drop one effervescent tablet in water, let it dissolve and your health fuel is ready to consume.
Why HealthAid Vegan B complex Effervescent Tablets?
B vitamins contribute to normal energy-yielding metabolism reducing tiredness and fatigue, maintaining of normal mucous membranes, red blood cells, skin and vision. It also helps build muscles and improve strength.
In addition to all the B Complex contains Vitamin A,D and E which helps maintain normal function of the body and helps build immunity besides keeping the bones strong and maintaining good vision.
It contains essential minerals like Zinc, Manganese, Copper and Selenium which help to keep the bones, muscles, heart and brain working properly.
It contains Polyphenols like Green Tea and Grapeseed which are packed with antioxidant and can treat digestion issues, weight management difficulties, diabetes and cardiovascular disease.
It is enhanced with the 5 electrolytes Sodium, Calcium, Potassium, Chloride and Magnesium which the body needs to function optimally. They control the fluid balance, regulate blood pressure, help the muscles contract including the heart and maintain the PH balance of the body.
It also contains Herbs like Ashwagandha, Ginger, Amla, Brahmi, Tulsi which act as Immunity booster
HealthAid Vegan B complex Effervescent Tablets may benefit:
Athletes who need extra energy support and increased endurance
Marathoners to avoid cramps and give an instant energy boost for the extra mile
People on a Vegan/Vegetarian diet require a B complex supplement
Those who are lacking energy and need a daily Vitamin B boost to maintain general health and well-being
People who wish to maintain a healthy nervous system and active brain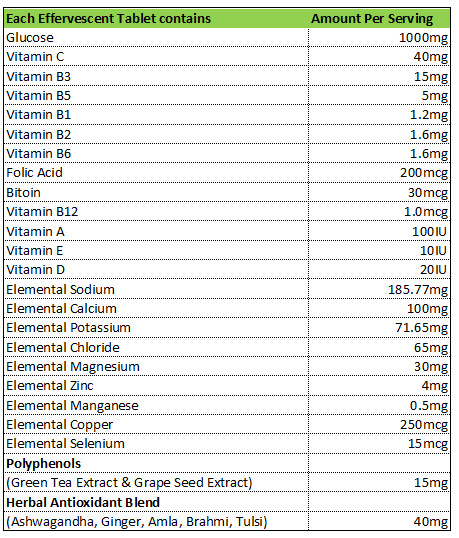 Note: Due to nature of ingredients, the tablets may show spots. This does not change the product efficacy and taste.
Free From: Gluten, Yeast, Wheat, Dairy Products, Soya, Sugar, Salt, Artificial Colours & Flavourings
Recommended Daily Intake
1 Serving (1 Tablet) daily or as suggested by healthcare professional
Note: Not to be Swallowed Directly
Net quantity: 10 Effervescent Tablets
Suitable for: Vegans, Vegetarians and Non-vegetarians
Flavour: Mango
MRP.: 390/-