Description
HealthAid® Osteoflex Cream is the optimum formulation for healthy joints and cartilage. It provides a unique combination of high grade Glucosamine and Chondroitin Sulphate with added essential oil and menthol to help maintain supple, flexible joints, and strong cartilage.
HealthAid Osteoflex Cream Fast Pain Relief Cream is designed to provide powerful relief for sore muscles, joint pain, back pain, knee pain, and more. It's an excellent choice for sports and gym-related injuries, making it ideal for managing joint and muscular pain. Get ready to relieve pain quickly and easily!
HealthAid Osteoflex Cream Fast-Acting Cream is specially formulated with a unique blend of natural ingredients, including Glucosamine and Chondroitin. This formula is made to deliver swift relief from joint and muscular pain, including knee pain. Enjoy hours of effective relief as it soothes aching muscles and joints
HealthAid Osteoflex Cream Pain Relief Cream is meticulously made with natural ingredients known for their potent anti-inflammatory and analgesic properties. This cream is designed to reduce stiffness, inflammation, and pain, making it your go-to solution for fast relief from muscle pain.
Ingredients: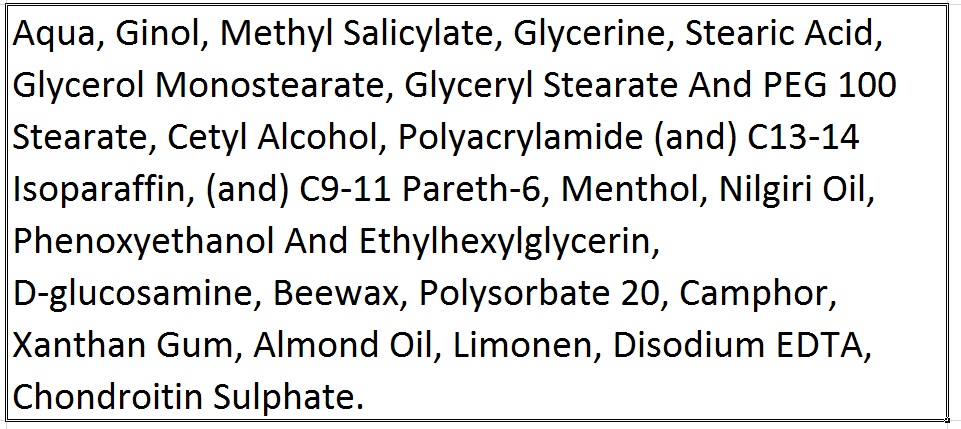 Direction for use:
Adults and childrens over 6 year of age; apply sparingly to the appropriate area And gently massage until fully absorbed. For Optimum result repeat two to three times daily.

Store in a cool dry place. Keep out of reach of childrens.
Free Form:
Free from Glycols, SLES/SLS, Parabens, TEA, PEG's, Free from Artificial Colours and Fragrance.
pH balanced
Eco-friendly
FOR EXTERNAL USE ONLY.
MRP : Rs.799/-
Net Qty : 100gram